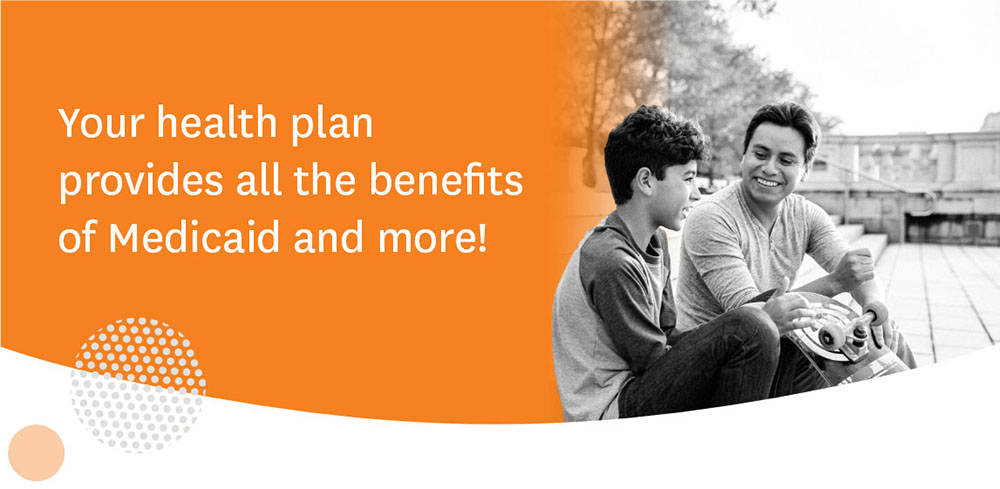 Western Sky Community Care offers health insurance plans with comprehensive health care benefits and services that suit the needs of families and individuals throughout New Mexico. View some of Western Sky Community Care's benefits and service below.
Please refer to the Member Handbook for a complete list of benefits and services available to you.
Preventive care visits are covered by Western Sky Community Care. This means visiting the doctor for a regular check-up, rather than waiting until you are sick.
Western Sky Community Care covers an annual physical for adults.
Regular child check-ups are also covered for those under the age of 21. Children also need a blood lead test at 12 and 24 months of age. We cover this. After that, if they are high risk, they need the blood lead test each year age 3 to 6.
Western Sky Community Care can help you find behavioral health providers, find local resources, plan an appointment and find transportation. Call Member Services at 1-844-543-8996 (TTY: 711). You can also refer to your Member Handbook for more information on your Behavioral Health benefits.
Protect your eyes with services such as eye exams and prescription eyewear. We offer members under age 21 repair or replacement of glasses once during every 12-months. Members 21 and older will get repair or replacement of glasses once during every 36-months. You can visit our Vision Care website for more information. You can also refer to your Member Handbook.
Western Sky Community Care covers dental care services to diagnose, prevent, and treat oral health issues for members. For more information, please refer to your Member Handbook.
Care coordination and disease coaching are part of your health benefits and are provided to you at no cost. Western Sky Community Care pays for these services. We provide services for many conditions, such as asthma, diabetes, COPD, high-risk pregnancy and many more. Call Member Services at 1-844-543-8996 (TTY: 711).
Our Nurse Advice Line is ready to answer your health questions 24 hours a day – every day of the year. It is staffed with Registered Nurses. These nurses have spent lots of time caring for people. Now they are ready and eager to help you. Call 1-844-543-8996 (TTY: 711) and press 5. This option will be available 1/1/2019.
Start Smart for Your Baby (Start Smart) is our special program for women who are pregnant and for those moms who just had a baby.  We want to help you take care of yourself and your baby every step of the way. If you are pregnant, please let us know by completing a Notification of Pregnancy form. After completing this form you will be enrolled in Start Smart. You will receive information in mail and over the phone. 
Are You Pregnant? Tell Us Right Away!
Call us! Or, you can login to your Western Sky Community Care account and fill out the Notification of Pregnancy form.
Birthing Options Program (BOP)
The State of New Mexico offers a Birthing Options Program (BOP) to pregnant women. With this program, women can choose from different maternity care providers. Women can choose the setting of the birth such as homebirth, birth center birth, or hospital birth. For more information, call the New Mexico HSD Medical Assistance Division (MAD) toll free at (888) 997-2583.
Through our Community Health Services Department (CHS), we can help you get the support you need. A CHS team member can talk to you over the phone. They can also visit your home. They can talk to you about things like how to choose a doctor, plan benefits and living healthy. They can also connect you to community social service programs. These programs will help you with food, housing and clothing.
Western Sky Community Care covers Non-Emergency Medical Transportation (NEMT) for medically necessary, covered services, such as doctor appointments, dialysis, and counseling appointments. You can set up transportation by calling Member Services. The phone number is 1-844-543-8996 (TTY: 711).
Interpreter services are provided free of charge to you during any service or grievance process. This includes American Sign Language and real-time oral interpretation.
If you need something translated into a language other than English, please call Western Sky Community Care at 1-844-543-8996 (TTY: 711). We can also provide things in other formats such as Braille, CD or large print.
If you need an interpreter for your medical appointment, contact Western Sky Community Care before your appointment. We will arrange for one to be at your appointment.
Centennial Care members can earn rewards for making certain healthy choices. Learn more about the program by visiting the Centennial Rewards website or by calling the Centennial Rewards Member Services at 1-877-806-8964 (TTY: 1-844-488-9722). 
Register to participate in the Centennial Rewards Program so you can:
Learn about Centennial Rewards and tips for better health
Track your reward points
Shop with your reward points
Western Sky Community Care is proud to work with SafeLink Wireless to offer you this special, federal program. As a Member of our plan, you get all the same benefits of a SafeLink phone, plus unlimited inbound text messages and calls to Western Sky Community Care member services. There is no added cost for these extras.
How to Enroll: